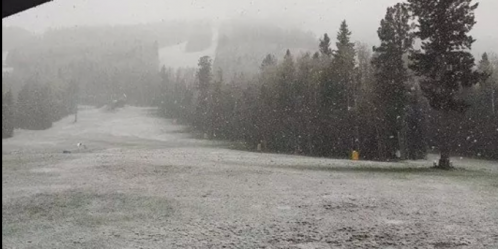 After spending any significant amount of time in the mountains, it becomes obvious that personal fitness and training are only a few of the many factors that determine success. Trail-running in general, and mountain courses specifically, are not sterile, precise environments. Unforeseen obstacles can derail the most well-planned and executed race. This chaotic, unpredictable nature of trail-running is what makes the sport and the possible successes all the more rewarding. But as the mountain can giveth, so can it taketh away.
Last weekend's Jemez Mountains 50 mile race started off well for me. I discovered my headlamp's batteries were shot about two minutes before the start of the race, but was helped out by a volunteer (not for the last time during the day). The opening ten miles consisted of some mellow single-track, winding along a river and some easy terrain. I fell into a comfortable pace, and was hiking any significant uphill, focusing on keeping a low heart rate. I reached the first aid station feeling warmed-up and ready to go. The second section consisted of some technical terrain around the Los Alamos lab's land. There were a few more steep portions, and I fell just a few minutes off of my planned 12-hour pace, but I was still feeling fresh and confident. I rolled through the Camp May aid station in about thirty seconds, just eating some calories while my wife refilled my water.
From the Camp May Aid Station to the Ski Lodge was without a doubt the prettiest section of the course. Almost the entire section was a huge climb to the top of Pajarito Mountain ski area. The climb was pure power-hiking fun, and I chatted with a few other runners as we grunted our way up the mountain. The views down into the Jemez and Los Alamos were spectacular, and I tripped on roots or rocks several times from soaking in the scenery. Once I hit the summit area around 10,400′, I found my legs were more fatigued from the long climb that I realized and I stumbled my way down the steep descents to the ski lodge. When I saw my wife at the lodge, I didn't say much, not wanting to convey how tired I was suddenly feeling with so much of the race left to go. I refilled calories and water and left, trying to stay calm and focused. I was still hovering around my goal split times, so I didn't want to let my momentary low affect me too much.
Leaving the Ski Lodge was one of the least exciting portions of an otherwise spectacular course. The short 2.8 mile segment led to the Pipeline Road aid station and from there down a very steep, but short descent. Some of the runners were bombing the downhill (and causing rocks to pour on those below them), but I slowed way down to carefully pick my way through the unsure footing. Once the course reached flat ground again, it stayed mostly flat and runnable for several miles. I was still feeling very low, but I ran almost every step of this portion, falling into a standard ultra-shuffle. The Valle Grande aid station was another sparse stop, with just a small table of snacks and liquids. I stood in front of it for several minutes, willing myself to eat just one mini pretzel. Once I accomplished that, I left carrying a handful of watermelon and continued at the same modest pace.
There was a significant off-trail climb leaving the Caldera area. It was a total power-hike climb, scrambling over downed trees, rocks, runoff ditches, etc. I was relieved to have an excuse not to be running, even if it meant a brutal uphill climb. For most of the day my goal was to be moving slightly faster than I wanted to be. I thought if I could maintain an uncomfortable, but not overly punishing pace, I could cover the miles fast enough to keep up with my time goals. This climb was the perfect example of that. I power-hiked it at a speed I might normally use on a nice mountain trail, even though our path was anything but that. The reward for finishing the technical and challenging climb was some perfect single-track running alongside a river. I realized I wasn't feeling any worse than I had been a few hours ago, and that at nearly the halfway point of the race, I was going to be able to finish the damn thing if I just kept moving forward and taking in calories. This realization really improved my mental state, and I settled into a strong running pace over the remainder of the section.
I hit the Pajarito Canyon aid station in the best mood I had been in since the start of the race. I knew I had it in me to finish now and was excited to make it happen. My stomach was even ready for calories and I shotgunned two gels while talking with my wife and an aid station volunteer. After almost a 50k worth of running in perfect weather, the clouds were starting to roll in, so I grabbed my Patagonia Houdini shell out of my pack, ready for what I assumed would be a quick afternoon rain shower. I blasted out of the aid station, running faster than I had at almost any point in the day. The gels had hit me like an adrenaline shot, and despite the first drops of rain, my mood, stomach and legs were all feeling better than I could have hoped for at that point.
The few drips of rain turned into a steady downpour as I began the climb up the back of the mountain. I was drenched in no time, but was convinced that the weather could still change for the better and that I just needed to keep moving and get to the downhill portion of the course. I had fallen in between two other runners for most of the climb, and as the rain fell even harder, we bunched up closer and discussed how miserable we all were.
Then the snow started to fall, and the temperature dropped even further. We were now soaking wet and freezing. The three of us, and most every other runner as well, were dangerously under-dressed for the conditions and in no time at all our teeth were chattering and our hands and arms shaking uncontrollably. Having never been on the course before, I had no real context for how far up in the climb we were, and even the two people I was with, who had ran the race in previous years, seemed unsure. None of us had a working GPS watch at this point, nor the desire to remove our hands from the inside of our sleeves even if we had. Between the three of us, we seemed to be able to combine brain power into one functional decision-making unit and slowly picked our way down the trail to the safety of the ski lodge. I know other runners that knew the course and ski area were able to shortcut their way to the safety of the lodge, but I was glad my little group stuck to the marked trail.
When we finally reached the lodge, I was convinced I was hallucinating. It had only been around two hours since I left the previous aid station, but the change from being in the best condition of the day to borderline hypothermic and mental and physical exhaustion was a dramatic difference. I knew I couldn't have kept going from the ski lodge, but was quickly informed that the race was cancelled anyway. Dozens of runners were bundled up in blankets, jackets and sleeping bags, unable to stop shivering. The volunteers and various crew members were all helping however they could, but it took at least a half hour for most of us to even slightly reduce our shivering and shaking.
My wife bundled me into the Jeep and we headed back to Albuquerque. As we drove, I tried to process the race in my mind. When we stopped, my legs weren't even that stiff or tired. My hands however, were still swollen and unresponsive. It is hard to know how to feel about the day as a whole. As I've said before, I'm not unaccustomed to failure in my athletic pursuits. It is just a given in running and climbing. Should I try and be happy about the fact that I was on a 12-hour pace prior to the weather change? Upset that I didn't plan for a severe weather event? Angry I was unable to finish even if the race hadn't been cancelled? I don't know.
What I do know is that I will be back at this race. The Jemez is a special place to me, and encapsulates a lot of the best parts of the state that I love so much. I have nothing but praise for the course, the race staff and the volunteers who were helpful all day, and amazing during the bad situation at the Ski Lodge.
I don't run in the mountains because it is easy, I do it because I want to test my physical and mental limits. And on Saturday I did that, despite not crossing the finish line.